Biffy Clyro
Opposites
9/10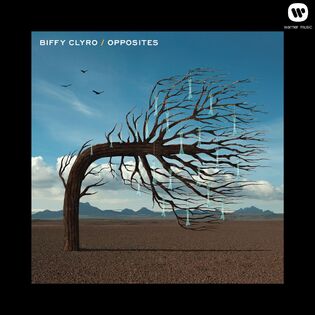 Mon the Biff! A magnificent collection of distinctive stadium rock anthems.
The first thing that's worth mentioning is that this album took the number 1 spot in the UK Album Chart for it's first week (week ending February 3rd), and is also the fastest-selling album this year so far. And boy does it more than deserve that. Opposites, the 6th studio effort by the Scots trio, is lyrically intricate, rocky, tender, beautiful, downright odd and overall, glorious. n.b. Biffy released 2 versions of the album, a 14-track single album, and a 20-track double album (the full version) - this review covers the double.
Over time, Biffy have been developing the kind of sound that suits festival headline spots and stadiums down to a T, and Opposites is very much the pinnacle of this progression. There are some truly huge anthems to be had across both discs, such as single Black Chandelier, Biblical and Stingin' Belle, that are custom-made to get huge crowds deafeningly chanting the choruses or jumping within the first 3 notes of a riff. The latter of those 3 is particularly rousing, breaking into a ludicrously uplifting score of what else but bagpipes at its close. As if you ever wondered where they were from. But the use of bagpipes only breaks the surface of how far Biffy push their own boundaries in terms of sound.
Never ones to be pigeonholed, there is such a huge variety of alternative styles within Opposites, one of the things that sets Biffy apart. The Fog, for example, employs a spooky, almost baroque organ sound with electronic undertones, with a stunning dark crescendo at the end that will send shivers down you; Sounds Like Balloons, underlined by a quirky, stuttering riff, sees harps creep in; and one of the highlights of both albums, Spanish Radio, actually uses a mariachi band in conjunction with the guitars and drums. Mad and brilliant.
The Sand At The Core Of Our Bones (disc 1) and The Land At The End Of Our Toes (disc 2) are very different in style; The Sand... takes on a much darker, more menacing tone than the uplifting sense behind The Land... - indeed, it's where the name Opposites comes from, with each disc acting as the antithesis of the other. But, together, it's brilliant. Rather than feeling too long, it's perfectly balanced, and at its' core, it's pure Biffy - off-beat riffs, oft-nonsensical yet beautifully flowing and clever lyricism, and personally deep to each band member but with a grand sound that brings them to the high point they were destined for. An amazing record.